"Is YourUnderwear Holding You Hostage.... or Setting You Free?"
Oops!... I Did It Again
Iwill be the first to admit that two of my favorite songs by Britney Spearsare "Slave" and "Stronger" (gofigure). Truth be known, Britney's2001 MTV Music Awards Performance is on my You Tube playlist right now.
She'ssassy, sexy and has broken a lot of records in the music business (Givethe girl her props), but Britney (she may not know this), started arevolution that many of us seem to be in the closet about. #WorkItB
Flash back to 2006,Britney joined Paris Hiltonand Lindsay Lohan for a Girl'sNight Ouch! She exercised her right, alright, she left her underwearat home ( Oops!...I Did It Again) . The paparazzi turnedit into something naughty and (not very) nice. But, it was the fuel, weneeded to deal with yet another "Below The Belt" issue, we face aswomen.
Iwill be the first to admit, I love my Victoria's Secre t  lace & leopard (my animal print obsession comes in all shapes& sizes) ensembles, but when I put on my skinny jeans, leggings or yogawear, there's a voice inside that screams...I want to be free!
Is it okay for me toBe FREE?
Should you be worried aboutwhat people think?
OR...what garmentsare in the vicinity of your Va-Jay Jay?
How many times have youslipped into your favorite pair of yoga pants, you know you'relooking pretty svelte, until you check yourself out in the mirror at thegym…Oh God, you've got a pair of big girl panties that give you the worst caseof VPL (Visible Panty Line) going!
Or, how about the timeyou wore your favorite pair of jeans to meet your guy for Happy Hour, and younoticed when you made a B-Line to the little girls room. It felt likehis eyes were planted on your booty (baby's got back), but sadly, you soonrealize that it's probably because you had the worst case ofriding-up-back-thong-strap in the history of thong straps.
It's just the worst,isn't it? How do panties manage to ruin a great outfit or make you a "FashionDon't"? If they're not bunching, pinching or creasing, they're subjecting youto an unimaginable amount of embarrassment. You've seen the pictures in FashionMagazines. #NotCute
Slip On The Jeans,Skip The Pretty Panties
What if I told you thatthere's a way to be Panty Free and "FlauntYour Freedom"? What if I said that you could stay clean and fresh all day(Girl's got to have good hygiene), without a single tug in the direction ofyour most fashionable gusset?
What if I said thatI discovered a product that will have you signing up to be anhonorary member in the #PantyFreeRevolution?
Stand up and shout PantyFree IS SEXY!

Girls and women everywhere, it's time to use oneof the most innovative female hygiene products to grace the open market - GoCommandos cotton patches will keep you looking pretty fashionable (frombehind).
The leading alternativefor the girl that wants to go Panty Free, since 2005, Go Commandosare ergonomically shaped, thin, stretchy pieces of cotton that you can placeinside any kind of "Below The Waist" garments, from jeans to shorts,leggings to overalls. In Health, In Comfort AND Protection!
GoCommandos patches usesurgical-grade, body-friendly adhesive, so you'll feel confident and free allday long. You can still run, go horseback riding, plié in barre class,play your favorite sport, take hot yoga, Pilates, kick boxing, and even cycle(spin class included) using Go Commandos; they really are that reliable. No matter the lifestyle Go Commandos has got youcovered.
Go Commandos are so easyto use and come in handy recyclable packaging that's easy to slip into apurse or night bag for Jet Setting Days.No more counting out endless pairs of panties – which means more room for apair of jeans or your favorite leggings, sounds pretty fabulous to me.
If you think GoCommandos   patches are just a fashion statement, then we have to tell youabout how these great little strips can help out girls who also need analternative to panties for medical issues.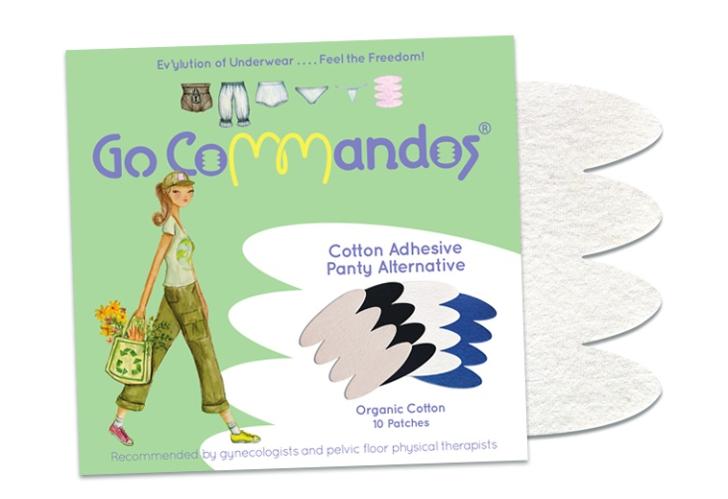 YouDon't Have To Take My Word Ask Your Gynocologist
Problems with wearingpanties can effect girls and women who suffer from any of these illnesses:Chronic Pelvic Pain,Vulvodynia, Yeast Infections, Interstital Cystitis, VulvaVestibulitis and Fibromyalgia.
The International Pelvic Pain Society reportsthat 9 million women, in the U.S. alone, aged from 18 to 50, will suffer fromsome kind of pelvic pain problem in their lifetime.

In an article by JaneBrody for The New York Times HEALTH section, January, 2008, reported: "a recentstudy by the National Health Institute and conducted by Bernard Harlow atHarvard University indicated that as many as one woman in six, 13 millionAmerican women, may suffer from Vulvodynia during their lives."
Statistics from theNational Women's Health Center, have recorded how four to eight million adultAmericans suffer from Fibromyalgia, with a whopping 90% being women.
Uncomfortable, bindingand restrictive (FREE Your Mind) panties can make life hard foranyone suffering from medical issues that surround the pelvic region;
GoCommandos patches, can help alleviate some of those issues.
If you happen to bepregnant, you will find using Go Commandos is the perfect maternitysolution. If you're not already a convert to the #PantyFreeRevolution, Ipromise, as soon as your beautiful bump begins to swell and your normal pantiesbegin to bite, Go Commandos will be a bountiful blessing!
Made from the purest,organic/non-organic cotton, if you suffer from fabric allergies, you can kissgood-bye any irritation or discomfort by using
Go Commandos, too.
I know this topic isprovocative and can easily be extrapolated (Ask Britney), but you know it'ssexy to go bare "Below The Belt" (No one has to know). It justtakes a little Body Confidence and a little getting use to. There'salways an adjustment period when you try something new. Are you ready to switchup your dressing routine and start a new habit? It's not "hoochie",but HEALTHY. It's the modern girl's way to "Flaunt Her Freedom". Exerciseyour right and do what makes you feel good!  
Freedom Is Sexy Too
So, let go of theshame, say Bye-Bye to Visible Panty Lines, strut your stuff andshout I'm Going Commando!

Britney Spears will berooting for YOU!
I Think I Did ItAgain...
Health & HotSuccess,
Ungenita
P.S. For more information on Go Commandos pretty little cottonpatches, please visit
GoCommandos.com